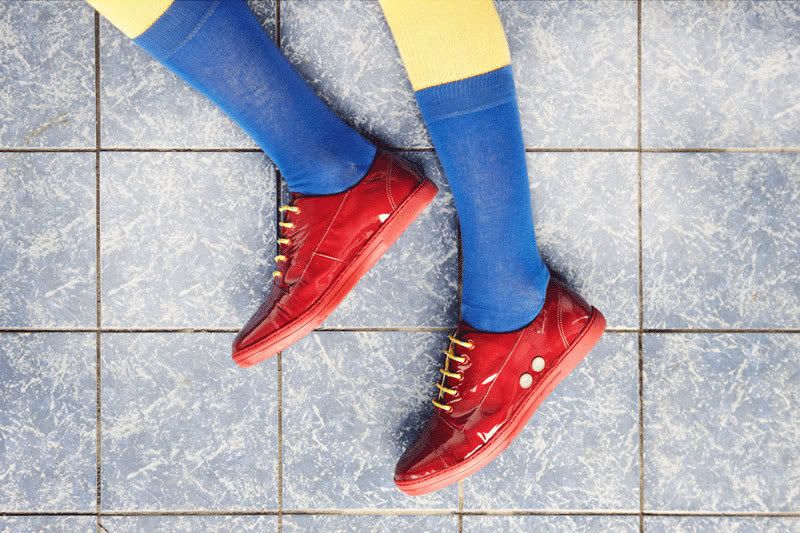 Gram's new collection is out! "Swedish designers Alexis Holm and Anna Stenvi started the line in the spring of 2006, when they put together three shoe styles in five different colors of denim, and produced 600 pairs to be sold to handpicked stores in Sweden. Today, Gram is sold in 120 stores throughout 15 countries. Gram's design-driven aesthetic has given a fresh take on the oh-so familiar street sneaker. Gram keeps its designs modern and artful by using new materials (like full grain leather, soft suede, and supple patent), and cleverly mixing fabrics like textured white tuxedo shirting with candy colored twill, and using new cuts in their designs. Gram's color palette ranges from simple black and white monochromatics, through to a sandy beige, and onwards to a bold navy blue and pop-art China red, using highlights with cobolt suede and shiny oxblood patents. Gram's paper cut prints are bold and precise. Holm and Stenvi pride themselves in the "clear contrasts as well as tone-in tone coloration" that make their line so renowned. Gram's sneakers are subtle and wearable, but nothing short of striking and iconic."
These swedish designers are my new favorite they are amazing.
heres some more styles from their 09' spring collection...
They also have some SALE items right now that have very reasonable prices....
$59
$69
$92
I WANT A PAIR RIGHT NOW!!!!!
my fav:
[
TRENDLAND
]
[
GRAM STORE
]